For many nonprofits, events are essential to engage supporters and build excitement around the mission — and provide a smooth ask within the event's positive atmosphere (and a bit of friendly peer pressure!). From intimate community forums to sizable annual galas, organizations expend considerable effort (and budget) towards event brainstorming, planning and execution. While undertaking events is certainly a significant investment requiring vital resources from both your staff and volunteer supporters, outcomes routinely show that events deserve a seat at the table for the long-term health of your nonprofit.
THE ROLE OF EVENTS IN A SUCCESSFUL FUNDRAISING STRATEGY
In order to sustain the services/goods it provides to your constituents over an entire year, your nonprofit may need to 'fill in the gaps' between such things as annual campaigns and other support initiatives (whether substantial or minor) — making events an appealing option. Large-scale events like galas and signature fundraisers (for instance) offer an opportunity for your organization to not only gather your legion of supporters in one place to celebrate their support (helpful hint: always remember the value of
public praise in front of peers!
) but to also raise awareness about the continuing headwinds that challenge your cause.  Awareness may seem like an afterthought — what nonprofit
doesn't
need it? — but assuming that awareness will simply happen organically could cause you to miss helping prospective supporters gain a deeper understanding of your important work.
EVENTS OFFER VARIETY TO YOUR DONORS
In addition to gathering and awareness-generating opportunities, events can also furnish unique and different experiences for attendees to interact with your cause in ways they may not have previously.  From Raffles for destination-driver items (luxury goods, experiences, or cash prizes), live and silent Auctions featuring a multitude of varying objects for bidding and satisfying no shortage of interests and tastes (prior to and/or during your event), and creative Contests (such as 'Cutest Pet') where donors can cast a donation-per-vote in hopes their selection wins, events can be the ultimate win-win, with your organization getting the financial (or volunteering, professional expertise, etc…depending on the structure of your event) support it needs to further its good work. Plus, your audience gets a fun and inventive way to give to a cause dear to them — as well as a chance to see old friends, meet new ones and network with peers in a great social setting.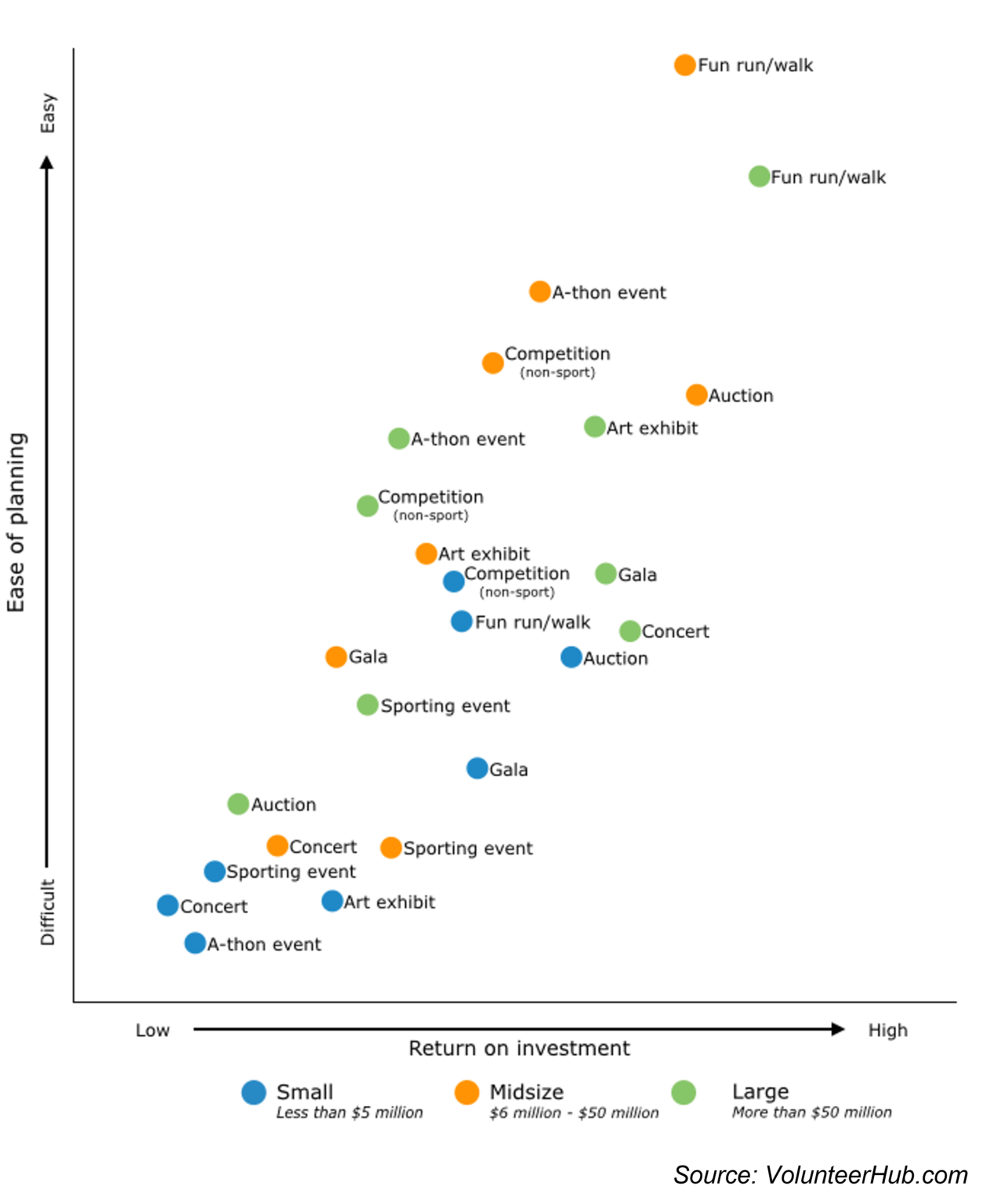 WHAT TYPE OF EVENT IS BEST SUITED FOR YOUR GOALS?
As we noted, there are many unique and creative directions your organization can take your next fundraising event. However, before you decide which to pursue, do some contemplation to arrive at the main objectives for your event, and read up on which types are more conducive to your endgames.  Is revenue raised your predominant goal?  Or are you also concerned with maximizing your ROI versus the funds you'll need to lay out to execute the event? Are you challenged from a staffing standpoint in terms of having the manpower to pull it off?  Considering an event that requires meticulous preparation on a long list of details, or one where logistics are easier, so it more or less 'runs itself?'  It may be helpful to do some research and consult with fellow nonprofits for valuable insight to ensure that every step you take is intentional and will inform your objectives.
TAKING ADVANTAGE OF THE ITCH TO CONGREGATE
Since its ascent in 2020, the COVID outbreak transformed many aspects of public life, including how we work, go to school, attend religious services, shop, and socialize in general.  Happily, recent surveys continue to reinforce that Americans are becoming increasingly comfortable with returning to normal activities. People are still cognizant about the need for trade-offs between protecting one's health (theirs and others') and participating in social activities that have traditionally been a part of daily life.
In a recent Pew Research Center survey, 21% of respondents noted their renewed appreciation for social and gathering activities (second only to protecting health/taking health precautions). Most in this group said participating in large gatherings and in-person visits with family and friends were more important to them now than they were before the outbreak — with one respondent quoted as saying "Quality time with the people I love, attending large events whenever the opportunity presents itself, is very important to me."
Of course, before planning an event, it's a good idea to 'take the temperature' of your audience to find out their feelings on attending an in-person event — especially the opinions of your most fervent supporters (there we go touting donor segmentation again!). If you find after vetting that your benefactors do indeed share this growing philosophy of 'getting back to normal,' then the coast is clear to start strategizing a SAFE, RESPONSIBLE and SENSIBLE initiative that will keep your guests within their comfort paradigms. Tips for a safer in-person event experience, encompassing everything from finding the appropriate venue, touchless check-in and contact sharing, socially-responsible-distanced room layouts and managing capacity, communications tools and generally ensuring your attendees' peace of mind can be found in this Cvent blog.
HELPFUL HINTS FOR YOUR NEXT EVENT
So…your constituents' collective temperature has led to encouraging feedback, and you've followed the best practices we've noted above to ensure a safe and worry-free event for organizers, attendees and event workers? Here are a few extra recommendations to help put your event over the top:
Remember that, despite their attendance, not all of your guests may be completely at ease yet with resuming in-person events. Be sure to stay on top of exactly whom in your audience may be apprehensive, and do everything in your power (providing masks, hand sanitizer, gloves, social-distancing areas, etc.) to make their experience a positive one. Not only will they appreciate your efforts, but those around them will see that you truly care about your supporters' feelings.
If you had canceled any in-person events due to the pandemic, think back to key content and special personal recognition that you may have missed communicating, and take the extra step of bringing those things out in your upcoming event. Even if your nonprofit's in-persons were replaced by virtual events (and if the latter is still part of your strategy, reach out as we have a guide that can help you), re-issuing that content and acknowledgement is a wise move. Nobody wants to chance their biggest supporters feeling short-changed in the recognition department!
As we resume normalcy, think about the highlights and best practices you employed during the pandemic that can still serve you well going forward. Some potential ways you can enhance your event experience: content sharing with those who attended as well as those who couldn't, an event app that includes everything a participant would need, or even event livestreaming.
Use your staff, Board of Directors and volunteers as a sounding board to help narrow down best practices and challenges. Chances are they have attended (or had a hand in planning) recent in-person events as part of their jobs, religious communities or social circles. There's no point in re-inventing the wheel when it comes to pulling off a safe and successful fundraising event; leverage their wisdom to get you to your destination more easily.
We congratulate you on getting through (what we hope is!) the worst of the pandemic, and we champion your desire to embrace a return to normalcy. As long as you remain transparent and compassionate every step of the way with the people on the journey with you, that return to normalcy should be a successful one.
We hope that these suggestions help in your event planning. If you have questions or would like to discuss, we are a mouse-click away!