WELCOME TO 2023!
A brand new year is upon us. And after the whirlwind we've been through the last few trips around the sun — an historic health pandemic, associated lockdowns and shutdowns, and resultant economic uncertainty exacerbated by unprecedented inflation growth — we certainly hope the new year brings stability for your nonprofit.  Read on for tips that will help you nail down what will make the biggest difference for your organization in the coming year, and hopefully allow you to spend your time, energy and money in the smartest manner possible.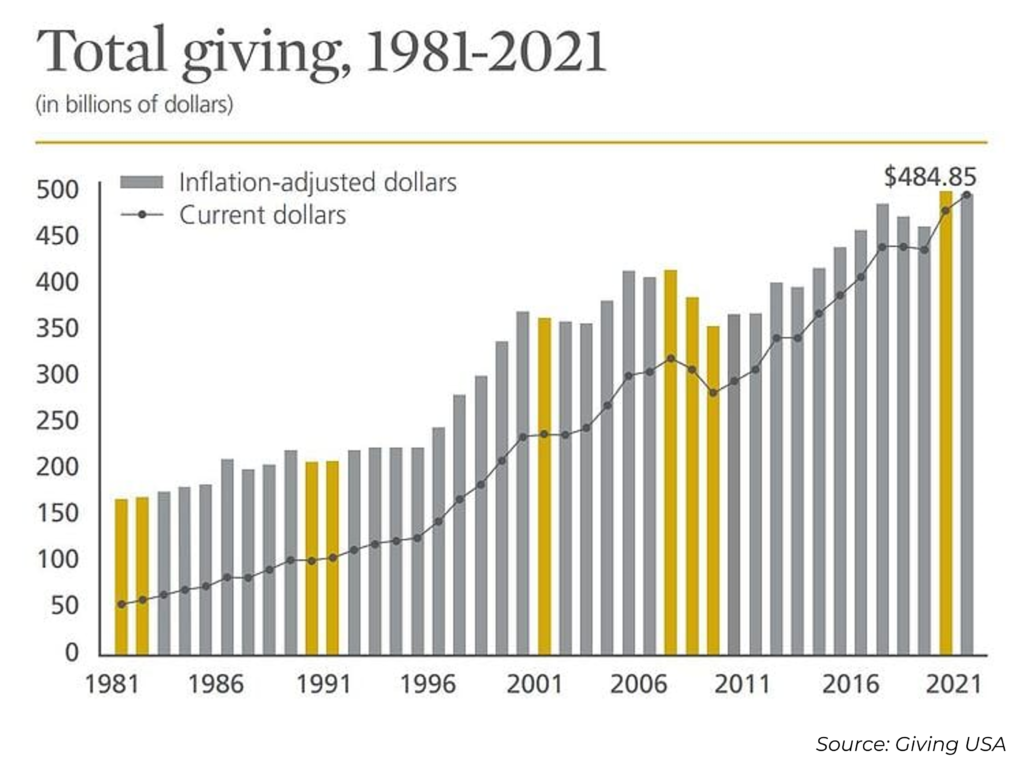 WHAT DID YOU LEARN FROM 2022?
Take a look back at last year's calendar, looking at every facet of your giving program — Workplace, Events, Securities, Planned Giving, etc.  As we all know, even the most carefully-planned, strategically-supported plans can go awry from time to time….severe weather can put quite a dent in an outdoor fundraiser, for example. Maybe some details you had forgotten about may have slipped through the cracks. Or a pitfall arose that you hadn't counted on, and a timely solution wasn't readily apparent. Fortunately, obstacles such as these give you and your team a chance to gain valuable experience and grow from any missteps — and do a better job the next time.  Here are a few suggestions on how to extract the best takeaways from your 2022:
For each initiative you undertook, make a list of pros (things that went as or better than you expected) and cons (things that fell short), then brainstorm on things you did well to spur the pros and things you could have done differently to address the cons.

Analyze the data you have — from multiple angles, to minimize false takeaways and arrive at the truest conclusion on whether or not your initiative is worth revisiting in 2023. A scientific, data-driven look will help you avoid emotion-based decisions going forward.
 Make a prioritized list of each initiative's role in supporting the mission and overall goals of your nonprofit. (You may see after spelling it out that some efforts may be redundant, and that condensing your energy towards one as opposed to the other may be a better bet.)
 Don't be afraid of change. The business world is constantly evolving and adapting, and nonprofits are no different — and most importantly, the circumstances and needs of the populations you serve are always changing.  Strategic change allows us to adjust, innovate and grow to maximize our impact to the people we serve.
Discuss your summations of what worked (and what didn't) as long as you need to with your team, but when it's all said and done leave the room with 100% alignment throughout your team on what to keep, what to ditch, what tweaks are necessary for a better year in 2023.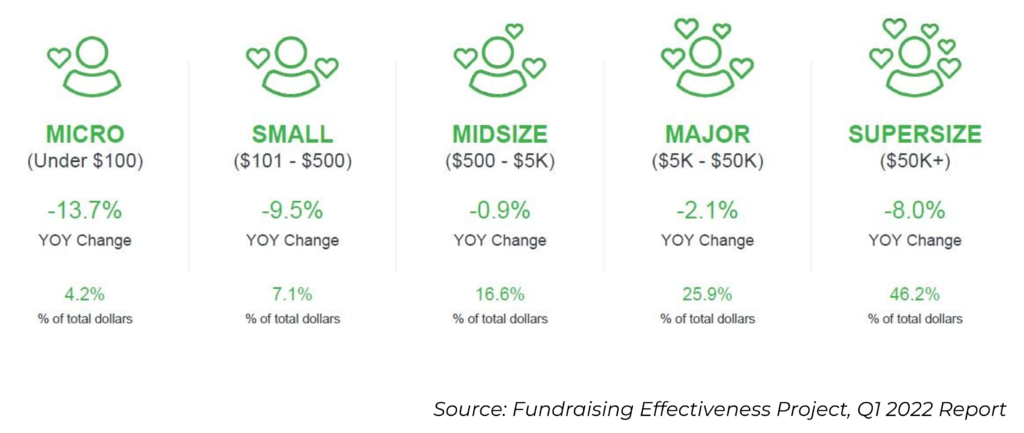 Once you've run each initiative on your 2022 calendar through this process, you should see the 'cream rise to the top' and have a better idea of what your 2023 fundraising calendar will look like. Just make sure to remember all along that it's all about your audience; be sure to put yourself in their perspective with everything you plan to do in the coming year, making certain of the appropriate impact for those you support.
WHAT DOES YOUR 2023 ECONOMIC CLIMATE LOOK LIKE?
in 2020, we witnessed widespread lockdowns to slow the onset of COVID, resulting in the economy reaching a virtual standstill. The year also brought an historical wave of social unrest, with energies (and dollars) shifting to support racial and gender equality in addition to urgent health and human services needs.  In 2021, the global economy started to get back on track, but the consequences of the shutdown caused lasting issues. Many industries (certainly including nonprofits) withstood manpower shortages as much of the workforce either shuffled towards remote work, entirely new careers or dropping out of the active workforce altogether. The result: massive supply chain obstacles that affected all industries. By 2022, an anticipated recession never materialized as the economy continued to grow — but that growth was dwarfed by a significant wave of inflation to a degree not seen in nearly 50 years.  As if that wasn't enough of a headwind, the crisis aspect of the pandemic began to slowly disappear from our everyday consciousness.  Taken together, these effects have largely led to a softening in giving from the dramatic COVID-related highs of 2020-2021 for many nonprofits nationwide.
Do your homework on just where the economy in YOUR trade area sits. Start with big-picture indicators such as population growth (to give you an idea if you're working in a growing or shrinking market), then dive deeper to metrics such as owner-occupied housing rate, household income and average home value trends, poverty rate, highest level of education completed, percentage of the 16+ population in the labor force, and retail sales growth. (Much of this data can be retrieved using U.S. Census Quickfacts.) This data will give you further insight as to the economic health of your trade area.  The key is acquainting yourself with your playing field as much as possible.  The better you know your prospects' demographic (including financial) and sociographic information, the more easily you can understand their attitudes, behaviors and motivations to give.
One spot of optimism: 2022 philanthropic giving was still up compared to 2019 (pre-pandemic) levels.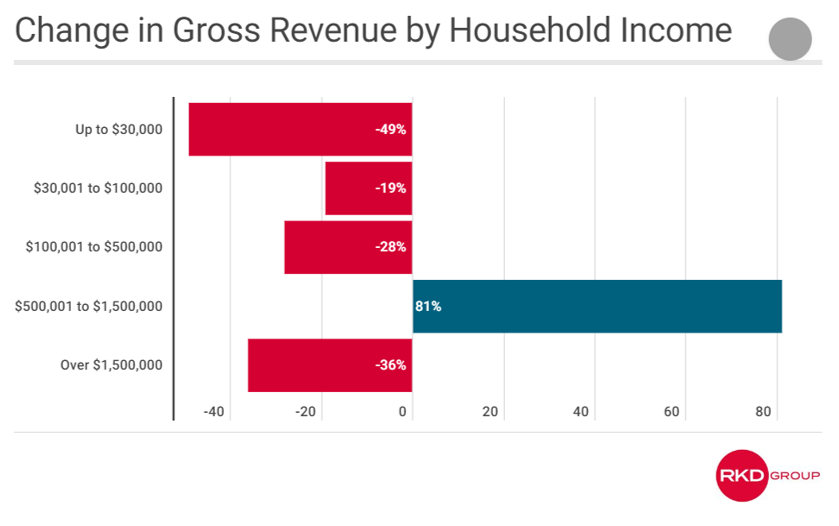 KEEP YOUR FOCUS ON AN UNPARALLELED DONOR EXPERIENCE 
Remember that your supporters are as different as their fingerprints — and that one size does not fit all when cultivating a relationship with them. Formulate a stewardship plan that tailors communication touchpoints specifically to each individual's tastes. Every single interaction they have with your nonprofit must add up to drawing them closer to your cause.  Know their likes and dislikes, their preferred areas of impact of your organization, what spurs them to give their time, talent or treasure.  Understand their journey with your organization and put your 'customer service' hat on to make their journey the best it can be.
Also critically important: know how they like to be recognized.  This point may differ from donor to donor, but showing your supporters that 'personal touch' of acknowledging and celebrating their support will mean the world to them — especially when they see that their personalized recognition is slightly different from that of their peers. 
The outcome from this work? A heightened level of trust and loyalty with your constituents. Research shows that when supporters feel valued and included, their relationship with your nonprofit fortifies….and their giving increases.
A MULTI-CHANNEL APPROACH IS A MUST
Recent research from fundraising consultant NextAfter.com reported that multi-channel donors give THREE TIMES MORE than single-channel donors….but only 3% of nonprofits use multiple channels.  Find the right mix for your donor base among using your (easily navigable, SEO-optimized and mobile-friendly!) website, email marketing, social media, video, print marketing, direct mail, media/public relations and in-person/virtual events and more to reach your supporters with the right message using the right medium at the right time.  People consume their content much differently now than they did a generation ago. And in addition to technological advancements, the pandemic has helped usher to the forefront things like streaming video (which has largely become the most engaging type of content), remote working and online food delivery and grocery shopping — meaning donors have shifted their behavior online.
Again, it may make sense to tailor your approach to align with the preferences of your individual key donors.  Talk to them in a place and at a time of their preference.
…AS IS ADAPTABILITY
Knowing everything we've been through in the last three years, does anyone really know what to truly expect in 2023? It's exactly this reality that forces nonprofits to develop a strong yet nimble giving program that can react in real-time to shifts in the fundraising environment. The ability to pivot when it benefits your stakeholders is yet another offshoot of knowing your donor base.  Being able to adapt what you're saying, how you're saying it, and where and when you say it to meet the needs of your constituents is a key ability.
As current events change the world and new trends make themselves known, how we interpret behavior and how we engage people will continue to shift. A great example: when in-person events evaporated upon the onset of COVID in 2020, nimble organizations were able to segue immediately to virtual events, while less flexible ones were left behind.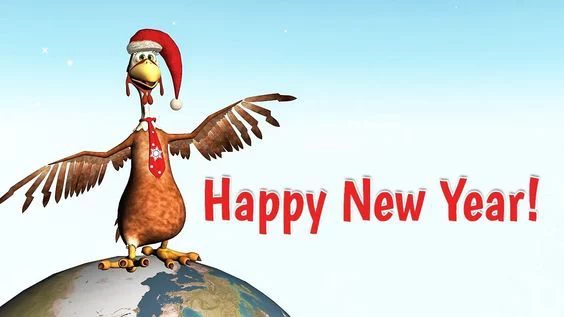 All the 'pieces of the puzzle' we've discussed, when aligned across your master fundraising plan, will give you the best chance at a banner 2023. With high-level strategic thinking and adaptability at the forefront of your program, combined with the wisdom of what worked for you in 2022, what didn't, and an intimate knowledge of your audience and its motivations, you have a chance to reach heights you've never before seen.
We hope that these suggestions help in your planning for the new year. If you'd like to discuss your 2023 planning, please reach out to us!
HERE'S HOPING 2023 IS YOUR BEST YEAR YET!