What Is Instagram?
Instagram is a social media platform that enables users to take pictures with their mobile phones and share them with one another.  Per the Instagram FAQ, the platform was built "to allow you to experience moments in your friends' lives through pictures as they happen."
Why You Need To Care About Instagram:
Instagram is a rapidly growing social media platform with high engagement.  Over 300 million people world-wide are Instagram users with 26% of adults in the U.S. using it.  And young people are all over this platform, with over 50% of people ages 18-29 using it.
That's BIG audience.
Basic Overview:
Handle: Every Instagram user has a "handle".  Expedia's handle, for example, is @expedia.  You select your handle when you set up your account.
---
Bio: Each Instagram account can have a bio that tells a bit about that user.  The bio can be changed at any time and should be used to share links to your website or landing page and/or to promote your hashtags.
For example, the bio for @expedia is as follows:    "Official Instagram account for Expedia. Tag your photos with ExpediaPic to be featured. expd.us/dxgfbV"
---
Hashtag:  Hashtags on Instagram are used to label content so others can find it.   You can use up to 30 hashtags on a post, but that can be overkill.
In my personal post below, I referenced the following hashtags:  #flower #garden #clevelandzoo #lovethisflower.  Now, a user looking for images of flowers can search #flower and get images like this one.
Hashtags can be quite long and can be used to provide commentary on a photo as well as being a more conventional label.  For example, #lovemylife has been used on well over 3million posts.  Some of these posts are glamorous, many are travel shots, and some have clearly applied the tag sarcastically.
---
Searching:  Searching for content on Instagram is done either by searching for a handle, or searching for a hashtag.  Search for "gopro" for example, and the first two results will be @gopro and #gopro.  Click @gopro and get the official Instagram account of GoPro which shows only pictures posted by GoPro.  Click #gopro and get all pictures that have been tagged with this hashtag.  They could come from any user on Instagram.
---
Following:  Following handles on Instagram is similar to "friending" them on Facebook.  Their content will show up on your feed.  It should be your goal to get other users to follow you so you have a direct channel to get content in front of them.
---
Liking:  Users can "like" individual posts without following the user that posted them.
---
Commenting:  Users can comment on posts without following the user that posted them.  If someone comments on your post, it is considered good etiquette to respond.  You can do this by commenting on your own post and starting your comment with the handle of the user you are communicating with.  That way, they will receive notification that you have replied.
For example, I post this picture from my travels: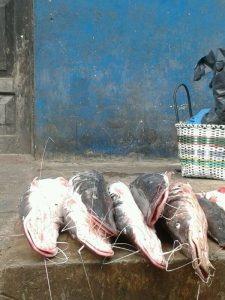 Another Instagram user called User23 comments on my photo:
User23 – Whoa, those are some whiskers!  Where are you?
I want to reply to User23, so I comment on this picture like this:
@User23 The market in Iquitos, Peru.  It's AMAZING!
 When I do this, User23 gets a notification to let her know that I responded to her comment on my post.
---
Ready to get started?
Here are some general tips with advice about what to post, posting frequency, etc to help you grow your following
http://www.agorapulse.com/blog/best-ways-get-instagram-followers
http://blog.instagram.com/post/8758205264/how-to-host-a-photo-contest-on-instagram
Looking for More?