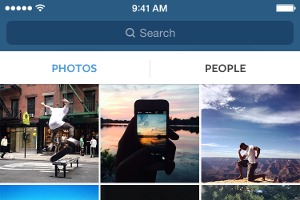 Not sure about the difference between a handle and a hashtag?  No problem!  Check out Instagram Basics For Nonprofits before you go through the tips.
If your organization has an Instagram account and is actively posting (ideally at least once a day), then you are probably looking for ways to grow your following and use Instagram to promote giving, membership and event attendance.   Here are 10 easy Instagram tips to help you on your way.
1. Put a live link in your bio. The Instagram bio is the only place you can put a live link, so be sure to use it wisely. Update your bio regularly to reflect campaign-specific information and put a live link to a landing page in it.  When you post, tell readers to click the link to donate or join or learn more.
2. Use landing pages to convert Instagram traffic. If at all possible, use the link in your bio to take visitors to a landing page that is campaign specific rather than directing people to your generic donate page.    Need a tool to build transactional landing pages?  Let us know!
3. Tell users what hashtag to reference in their posts. Do this in your bio.  If you are running a specific campaign or contest, you might promote a campaign-specific hashtag.  You should also have a more general hashtag that is still unique to your organization
4. Run contests to gain followers.Run a contest for limited time. You want to offer prizes, but they don't have to be monetary or tangible.  Instead you might feature the top pictures on your organization's website or in your newsletter or on other promotional material.  Include the winner's Instagram handle in the promotion when you use the image.  Determine the winner(s) by letting other users vote for their favorites by "liking" them.
Link to rules/terms – original images only…permission for you to use posts in your marketing materials, age restrictions, etc.
Embed Instagram feed on your website so people can see other participating and jump on board.
Announce winners in Instagram, Website, Newsletter, On-site
5. Embed your logo/hashtag in the images you post. Use editing software to position your logo in one corner of an image and position the relevant hashtag in the other corner.  You don't want these to intrude on the image, but just be a subtle way to keep your brand in front of viewers.
6.  Choose hashtags wisely. Before you decide on a hashtag for your next campaign, be sure to do your research.  You want to run searches using the hashtag you intend to use.  Has it been used before?  In what context?  Is it unique enough and appropriate for your purposes?
 
For more insight into how to choose a hashtag, check out these resources:
4 Tips to Pick The Right #hashtag for your Instagram Campaigns
 How to Create a Hashtag Strategy on Instagram
7. Showcase posts from followers on your website, newsletter, etc. to motivate people to follow/ share/tag.  The best way to do this is to embed your Instagram feed on your website so it automatically refreshes with most recent images.
To quickly insert your Instagram feed into your website, check out http://websta.me/tools.   If users click on an image in the feed, they will be directed to your feed on Websta.me rather than directly to Instagram, but they can still like and comment and follow you.  They can also share your Instagram images on other social media with a single click.  Downside:  there are ads on Websta.me and the iframe that makes this work may not function on secure pages.
For a cleaner feed that directs users back to Instagram rather than a 3rd party site, take a look at http://instafeedjs.com/.  Setup can be a bit complicated, but you avoid the re-direct and ads.
If you are a Big River client and you want to insert your Instagram feed on any of your Big River pages, let us know!  We can get this set up for you.
If you don't want to mess with embedding a feed you can always easily embed a view choice Instagram posts:
http://blog.instagram.com/post/55095847329/introducing-instagram-web-embeds
8. Make your Thank You as public and enthusiastic as your asks:
9. Monitor your hashtags and handle to be sure to respond to participants/comments/etc. To do that you'll want tools to help you monitor your campaign.  Here are some good suggestions:   http://www.socialmediatoday.com/social-networks/peteschauer/2015-07-11/5-best-free-instagram-analytics-tools
10. Be creative with your themes!  Have fun!