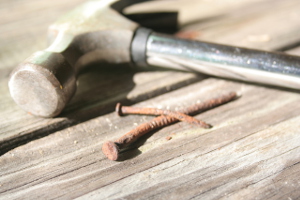 I came across a brilliant line this week from Lisa Jervis of Information Ecology, LLC:
"The reality is that software, like any other tool, allows humans to use it to do a set of tasks that, when properly organized, achieve planned goals. We wouldn't expect a hammer to build a cabinet for us, but somehow we still expect software to do our work."
This is great!
Of course, the follow up question, is "Well, then what SHOULD I expect from my software"?  I surveyed our office to see what folks here think and these are the top 10 responses:
#1       It should be scalable so I can buy what I need now and add on as-needed.
#2       There should be ongoing product improvements to support strategic & operational shifts in best practices.
#3       My software should help me create opportunities to work in more effective/efficient ways.
#4       My feedback about the software should be welcomed and responded to in a thoughtful way.
#5       Common tasks should be easy.  Uncommon tasks should be possible.
#6       My software should "play well with others." 
#7       My software should have a clear, concise license agreement.
#8       Security. I should have confidence that my data and my donors' data is secure.
#9       It should be flexible without requiring loads of custom code or unsupported modifications.
#10      I should be valued as a client and receive prompt, professional support.
What should you expect of yourself?
As Lisa suggests, the best software is only as good as its user, so you should have some expectations of yourself or your staff when it comes to your use of it.  Here are our Top 5 suggestions:
#1       Bring your own strategy.  Technology does what you tell it to; be sure you are directing it to drive clear, measurable outcomes.
#2       Keep up to date on what the software can do, so you know what tools are at your disposal.
#3       Challenge yourself and your colleagues to use software/data to work across silos within the organization
#4       When implementing new software, welcome changes to the way things have previously been done.
#5       Define good policies and procedures for staff to promote consistency and clean data.
What do you think?  What do you feel you should expect from a software provider?  What do you expect to bring to the table?