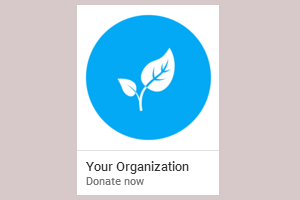 YouTube has introduced donation cards, which can easily be embedded into any video to raise funds for an organization.  Here's an explanation of the cards as well as tutorials to guide users through setup.
What are donation cards?
New YouTube functionality allows any user with a channel to embed calls to action in a video and raise money for the organization(s) of their choice within the YouTube platform.  It also allows recognized nonprofit organizations to insert these calls to action in their own videos and link to external landing pages.
To see how cards work, please see the user guide below.
How does your organization benefit from them?
Apply to Google for Nonprofits – CLICK HERE TO REGISTER
You will get an acceptance email from Google. In it, look for instructions about how to enroll in the YouTube Nonprofit program.  You must be a member of the Google for Nonprofits program in order to benefit from YouTube donation cards.
Join the YouTube Nonprofit program.
Once you are a recognized nonprofit, users will be able to select your organization and raise funds on your behalf.
How do your supporters use them?
If you have supporters who are active on YouTube, you can ask them to insert donation cards in their videos and ask viewers to make a donation to your organization.  All donations are processed via Network for Good and Google covers the processing fees, so 100% of all gifts go directly to you.  Unfortunately, you will not get donor information, so you won't be able to follow up or cultivate donors who give to you this way.
Pros
Anyone with a YouTube account can embed a call to action in videos to raise money on your behalf.  You get 100% of all donated funds.
Cons
Your organization does not get donor information so you can't cultivate these donors.
Your organization has no control over the appeal or the video content in which it is placed.
The image associated with the donation card is a generic icon rather than your official logo.
Want to encourage your supporters to create donation cards to benefit your organization?  Here is a user guide to walk them through the process.

Love the idea of empowering your supporters to help you rasie money on YouTube, but want more control over who is promoting you and how?  Want to be sure you get the donor contact information so you can thank and cultivate your donors?
There is an alternative to donation cards.  Ask users to use ASSOCIATED WEBSITE  functionality within YouTube to link directly to your site.
Pros
You control who links to your site.
Your official logo can be used in the card.
Donors will transact on your website, which means you collect all the donor details.
Cons
Setup is a bit more cumbersome for your supporters.
Want to learn more about how Associated Websites work?  Download the user guide to walk through the process.

Does your organization use cards to embed calls to action in your video content?  Do you plan to ask supporters to create donation cards on your behalf?  Share your experience in the comments.