Pinterest is not just for crafters, fashionistas and people looking for good short haircuts.  Used well, it's a powerful way to use images and video to get your nonprofit's message in front of 100 million people.
It can be time consuming (but so fun!) to generate and post the visual content that's generally consumed on Pinterest, so it surprises me to see awesome pins that aren't optimized allow viewers to easily respond to a call to action.
Of course, not all content needs a CTA.  Some might just be intended to educate and promote your brand.  But for those pieces of content intended to convert, here are three important tips to keep in mind.
1.  Upload your images
If you upload images to your Pinterest boards, you have the opportunity to designate the URL to which a user is directed if the pin is clicked. (NOTE:  this can only be done from your desktop, not on mobile devices)
Why does this matter?
Let's say you're a nature center pinning pics of the animals in your center.  And let's say you have an adopt an animal program that raises money to support the animals' care.  You can upload an image of an animal, share information about it and about its care, and then link directly to a page with more information and the opportunity for a visitor to make a donation to support the animal.  This is so much more likely to result in a gift than a link that leads to your home page.
Big River Tip:  If you are using the Big River shopping cart, each category and item in your catalog has a unique URL, so don't link to your website or your mail catalog page, link to the page/item most relevant to the content you are sharing.
2.  Make Your Description Compelling
Pinterest allows a 500 word description on each pin.  Have a strong description that invites a reader to click through to continue reading on your website.
Why does this matter?
If visitors stay on Pinterest, they can easily be distracted away from your content.  So, if your image and description can capture the interest and the imagination of the reader and tease them with content they want more of, then you have an opportunity to move that user from Pinterest to your own website where they are a more captive audience.
3.  Use Video
Not only can you pin static images, you can also pin video content.  If you're a museum, for example, you might offer mini docent talks on select pieces in your collection or give people a glimpse behind the scenes at how art is preserved.  If you're a zoo, you might pin video clips of your animals doing cute, funny, or amazing things.
**Use YouTube videos with embedded Donation Cards to present a call to action as the video plays.  When clicked, the CTA should take a donor to a relevant landing page for conversion.
For a tutorial on DONATE CARDS…
4.  Make Sure Metadescription Is Appropriate
When you pin content, the SEO Metadescription populates under your pin.  If there is no metadescription, this space will be blank.
Why does this matter?
This is extra opportunity to say something about your pin and encourage engagement, why not use it?  If the metadescription is not relevant to the pin, then it can dilute your message.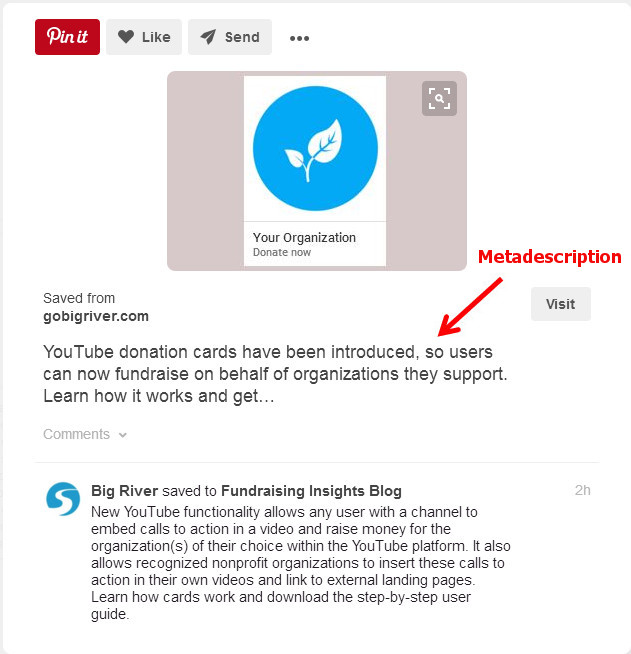 Big River Tip:  You can define the metadescription for any page in the social media settings.
---
For More On Pinterest:
Julia Campbell just put out a blog post, "5 Inspiring Nonprofit Online Campigns for Mother's Day".   It offers some great inspiration for nonprofits looking for ways to engage constituents on Pinterest.
Check out this post from Vincent Ng of MCNG Marketing for a step-by-step tutorial on how to upload images to Pinterest and designate the link.
Not sure what size images to use?  This guide is handy not only for Pinterest but for all the big social media sites.