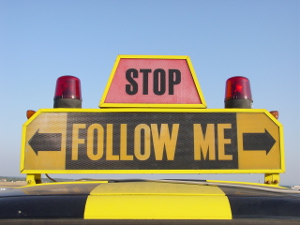 Does your nonprofit have a social media presence, but struggle to build a following large enough to drive real results?  Try first meeting your audiences where they are.
How do you communicate with donors now?  At events?   Via email?   Direct mail?   Use those traditional communication methods to put a social call to action in front of your supporters.  Think first about what platform(s) you care about most.  Where do you have your best content?  Where does your largest audience likely spend time?
Once you know what channel(s) you want to promote, try one of these ideas to boost your following:
1.  Promote your social media accounts at events. In your opening remarks, ask attendees to take out their phones and follow you.  Loop a slideshow at the start of events that includes engaging images, details for upcoming events, and ask people to follow you.
 2.  Have a photographer take photos at your event. Ask the photographer to collect names and Twitter handles from those photographed.  Post the images and tag attendees in your tweets.
 3.  Send a letter.  Tell your constituents how much you love them.  Tell them you want to keep in better touch.  Explain what they are missing by not following you on social media and tell them where they can find you.
 4.  Run an Instagram photo contest. Invite constituents to post pictures to Instagram.  Promote the contest with on-site flyers, e-blasts or direct mail.  Use the winning photographs on your website, in your annual report, or in your next ad – credit the photographers using their Instagram handles.  To participate, have them follow you, mention your organization in the comments of submitted photos and use a dedicated hashtag.  Announce the winner(s) on Instagram.  For more on running an Instagram Photo Contest, click here
 5.  Post an educational / informative video series on YouTube.  Promote your channel by linking to your videos in your e-newsletter and encouraging constituents to subscribe to your channel.   Need inspiration?  Home Depot does an amazing job of posting short videos from Homeowner Basics to DIY project tutorials.  They also post videos with stories celebrating "Team Depot" and the charitable work they do.  How can your organization use this technique?  What knowledge, skills, or resources can your organization share?   For detailed guidance and advice on building a successful YouTube channel, click here 
As you work to grow your social media audiences, be sure to have a content calendar and a plan for developing engaging new content so the people who do follow you are glad they did.  Every now and then, explicitly ask your followers to share a particular post so you can get in front of an even broader audience.
Once you are successfully engaging with constituents on social media, consider how you can use that engagement to drive actions you care about:  donations, volunteerism, advocacy, event attendance.  No matter what action(s) you promote, be sure to employ landing pages to optimize conversion!
WANT MORE LIKE THIS?