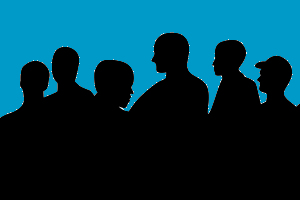 Online crowdfunding reportedly raised over 5 billion dollars in 2013 with about 30% going to charitable causes.  In recent years, there has been a proliferation of platforms and consultants sprouting up to support it and organizations are evaluating how they can incorporate this "new" technique into their fundraising efforts.  But while the Internet and increasing mobile connectivity provide greater opportunity to reach a large and diverse audience, crowdfunding itself isn't really new at all.  As far back as 1884 crowdfunding was employed to save the Statue of Liberty.  In 1927 a crowdfunding campaign in Cleveland was responsible for rescuing Balto and his heroic dogsled companions from a grim future.  In 1949 Milton Berle introduced the first telethon, essentially using modern technology of the day to reach a wide audience and raise a large sum of money through many small donations.  Not so different from current online crowdfunding.
Today, two things generally come to mind when a nonprofit organization considers crowdfunding:
Third-party platforms that allow any individual to create a fundraising campaign for a cause.
Walk-Run-Ride fundraisers where teams are formed to participate in an athletic event or competition and fundraise for a cause.
The first presents challenges when it comes to managing brand and messaging, getting donor data, and even collecting funds.  Many times, these fundraisers are started by motivated individuals without the knowledge or explicit consent of the organization.  Of course, the help is welcome, but there are some big deterrents here for many organizations when it comes to actively asking constituents to use these platforms.  The second has proven a very successful model, but requires the coordination of a large event that demands a big investment of time and resources to manage logistics, recruit volunteers, and ensure success year after year.
So what can you do if your organization wants to put the power of crowdfunding to work, but wants more control than third party crowdfunding sites allow and less operational work than that required of a walk-run-ride event?  Here are 4 strategies you may never have considered.
1.  Board fundraising – Many organizations struggle to communicate fundraising expectations to board members and/or to give them the tools to help them reach their fundraising goals.  Crowdfunding technology from Big River can make it easy to communicate fundraising expectations and provide tools to help board members make the ask.  Give them an opportunity to share their passion for your organization with friends and family.  Give them a way to manage their progress and see the progress of other board members.  Let them keep their contact lists private so they are encouraged to reach out broadly and can rest assured that only those people who opt to make a gift will be visible to the organization.  Give them dashboards with built in coaching and tips to help them achieve success.  At the same time, give your staff the ability to create and manage communications and other content.
 2.  Personal Initiative Fundraising – Bring your own motivation.  Instead of waiting until you have an event or a project, open up the opportunity for constituents to fundraise on your behalf at milestones that are meaningful to them –       birthdays, memorials, graduations, weddings.  This approach is similar to the one that third-party platforms support, however by offering your own environment in which motivated individuals can create fundraisers to support you, your organization has control over brand, awareness of what campaigns are being run, real-time access to funds and analytics, and donor data to facilitate future cultivation of newly acquired donors.
 3.  Project Teams – Create a menu of various projects with fundraising goals based on the funds required to complete the project.  This gives you an opportunity to communicate vision and help donors see the impact of a gift.  At the same time, you employ social proof and social sharing to encourage engagement from a large audience. Want to provide an even greater opportunity for invested constituents to support you?  Give them the ability to join a project team, set up an individual fundraising page, and use communication tools and dashboards to actively fundraise to help reach that project goal.
 4.  Story Teams – Design teams around various aspects of your mission.  This gives you an opportunity to share the impact your organization has and invite beneficiaries and supporters to rally around them.  Not only helps raise funds, but helps you identify why various donors support you – what aspect of your work resonates with them.
If your organization licenses crowdfunding software, ask to see what types of campaigns it can support.  If you're looking for software that can support all of the strategies outlined above as well as traditional event registration and team fundraising, let us know.  We'd love to show you how Big River's flexible enrollment permissions, easy content creation tools, and built-in coaching & dashboards can support a wide variety of crowdfunding campaigns.