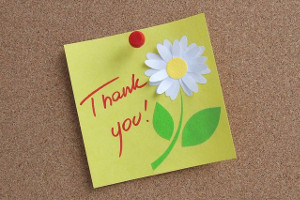 Donor Acknowledgement is not the same thing as a Thank You.  It's tempting to try to craft a donor acknowledgement that provides required details for tax purposes and simultaneously demonstrates impact and communicates enthusiastic thanks.  After all, you save money on postage and letterhead and you save time.
Resist the urge.
No matter how you dress it up, a tax receipt is not a heartfelt thank you.  It's not going to impress your donors.
Your thank you should surprise and delight the recipient.  The good news is, it can be heartfelt and still accomplish a lot from a marketing perspective.  Let me offer an example.
Every year, the holidays creep up on me and I find myself in a frenzied rush to find perfect items for friends and family.  I search online.   I peruse catalogs.   I find ideas in magazines.   I don't always remember what what companies I transacted with.  If a gift is very well received, I will often go back to my credit card statement to find out who I bought something from so I know for future reference.  But I'm definitely not a loyal customer of many companies from which I buy gifts.
NOTE:  The same is true for many charitable gifts I make.  Of course, there are organizations that I always support, but I respond to appeals during the holidays at the request of family or friends or in an impulsive response to an effective and well-timed call to action.  I go back to my bank statements and receipts to account for the gifts for tax purposes, but I may not have a deep connection to some of the organizations I supported.  (I'm not the only one!)
This year, I was surprised to find this letter in my mailbox 2 months after the holiday buying frenzy was over:
This thank you letter certainly surprised me.  And it accomplishes a lot.
It feels personal and heartfelt – Clearly this is a mass-produced marketing piece. But it FEELS like a personal letter.  It's not glossy or flashy.  It's a simple message communicated with basic typewriter font on nice paper and "signed" by the CEO.
It shares the company's mission and vision in a way that makes me want to do business with them again. – The mission statement is articulated in two sentences. It's focused.  It's impassioned.
It offers a token of thanks. – Really, the letter is thanks enough, but enclosing a gift that creates incentive for me to engage with the company again is smart. And it feels more personal than a $20 off your next order banner on the website.  It makes me feel a bit like Willy Wonka with a golden ticket.
It makes a pitch for me to keep an eye out for more product information that is enroute. – The simplicity of the letter isn't marred by loads of material about the company or its products, but it got my attention and took the opportunity to ask me to look for such information in a future communication.
It invites my feedback. – It doesn't just talk to me; it opens the door to a dialog. This makes me feel important.  And, if I engage, it gives the company opportunity to learn more about me and cultivate a relationship with me.
It asks me for my email address and gives some solid reasons why I should opt-in. – This ask is tagged on to the end.  The p.s. makes it feel like a throw away, but this is an important ask.  Keeping a good, clean list of email addresses is so important if the company is to communicate cheaply and quickly with its customer base.
Overall, this is a great thank you.  It arrived while I still remembered my purchase, but with enough time in between to surprise me.  It generated a feel-good reaction, and it lodged the company in my mind.
After looking at it critically, I think I would modify it slightly in the following ways:
I would make the fourth paragraph more personal by changing the phrasing a bit to talk about the hard work and vision that's gone into designing some new items and making a humble ask for the customer to take a look with the hope that what he finds there will delight him.
I would eliminate the P.S. ask for an email opt-in. It's too impersonal and salesy.
All-in-all, however, this is a great example of how a thank you can be simultaneously heartfelt and personal while accomplishing very specific organizational objectives.  Think about your organization's thank yous and ask yourself two questions:
Do they give donors a feel-good moment?
Are they working to help you strengthen your brand and promote future engagement?
If the answer to either is "No", then try adopting some of the techniques used so effectively here.  Have an example of an awesome thank you?  Please share!