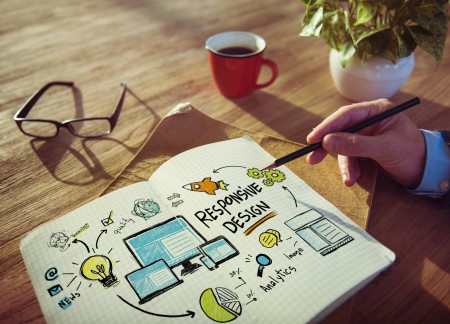 You've read enough articles to know that online and mobile presence is an essential element of your future fundraising campaigns.  It's not enough to put up a web page and collect donations via PayPal.  You need tools that will help you get your message in front of as many potential donors as possible and make targeted appeals that result in donations.  It's not easy.  With the tech landscape always shifting, and a (likely) unfamiliar lexicon to learn in order to talk about it, the pursuit of effective use of technology can be downright overwhelming.  Still, pursue it you must.
So, let's address some common questions regarding mobile presence.
Why Are Smartphone Users Important?
According to a recent Pew Internet Survey, 56% of adults in the US are using smartphones and this number continues to grow.  These mobile users are attached to their devices.  You see them on the train looking at their phones.  Stuck in traffic?  Smartphone users are looking at their phones.  Attending an event?  They're checking in on mobile devices and uploading pics of themselves and their friends.  With so much attention diverted to the mobile screen, you need a way to capture a piece of it.  Consider, too, that most of the smartphone users in the US have attained an education level of college or better and report a household income of $75K or more; these are prime donors.  So, it is critical that you can deliver your message and collect donations via smartphone.
Which is better? Responsive Design or Native App
There is a lot of talk right now about responsive design.  What is it?  Responsive design is simply a web design approach that makes pages easily readable on any device, regardless of the screen size.  This means that if your webpage is responsive, it will look equally great on a PC, a tablet, or a smartphone.  The alternative is to create a native app – this is a downloadable program that has been designed for use on a particular device.  At some point, it became cool to have an app – but for most non-profits, responsive design is the only way to go.
Cell phone users "from the upper end of the income and education spectrum are much more likely than those with lower income and educational levels to say they own an iPhone.  Indeed, fully half – 49% – of cell owners with a household income of $150,000 or more say their phone is an iPhone." *   This is not a particularly surprising statistic, but it is a meaningful one if you know that Apple regulations forbid apps that take donations – something easily accomplished with responsive design.
Not only does responsive design allow you to put your best face forward on mobile devices, it also preserves your investment.  Regardless of what happens in the mobile marketplace going forward, your pages will be configured to look great on any device.
How are smartphone donors different from other online donors?
Really, smartphone donors aren't any different from donors visiting your website.  However, there are a few best practices that are particularly important for mobile users:
1.   Minimize the information a donor needs to supply when making a donation.
2.   Security is always a concern, so make sure donors aren't re-directed to a vendor page in
order to donate
3.   Users are often on the go, so be sure your message is concisely presented and adjust colors appropriately to ensure optimal readability on all mobile devices.
For more on responsive design and mobile marketing, check out these articles:
S-M-L-XL Why Responsive Website Design Is the Best Strategy for Different Size Screens
Three Nonprofits Pioneering Responsive Web Design
__