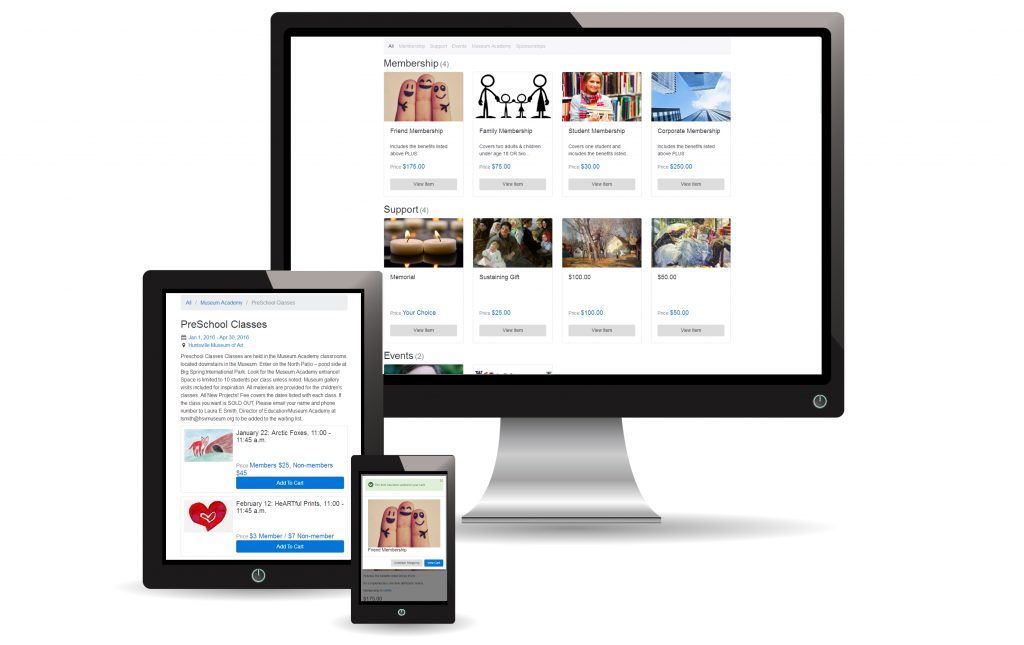 The only out-of-the-box Giving Catalog ready for non-profits of any type and size.
Give your donors and members the experience they expect from a first class e-commerce site without the cost of a custom solution or force-fitting your mission into an eCommerce shopping cart.
Why Go with Big River for your Online Fundraising?
Launch new campaigns in minutes, not weeks on our cloud-based platform. Choose from pre-defined campaign templates or easily create your own using tools as easy as your email editor. Publish and share immediately using integrated email and social marketing.
Publish all your funds, events, memberships & more, in one catalog organized so that constituents can easily find the way they want to engage your organization. Anything you can ask of a constituent you can publish in your catalog.
Make your catalogs compelling using rich text, images and video that communicate your brand and mission. Personalize email campaigns, social shares and receipts. Easily keep your catalog up to date.
Packed with the Features You Need to be Effective
And it's all cloud-based, so you get the new features automatically.
Integrated Email & Social Marketing
Create emails using web-based tools and responsive templates. Segment by classes and queries of constituents. Pre-populated social content. Create discounts and promotions for groups.
Secure Payment Processing Included
All Giving Catalogs include a free merchant account and payment gateway so you can immediately start accepting credit card and ACH payments. You can also allow staff to take orders with cash or check in-hand or for later payment.
Every catalog is also equipped with an SSL certificate and is fully PCI-DSS compliant to protect your donors and your organization.
We also integrate with most popular payment processors, if you already have one.
Tiered pricing starting at zero. All fees covered (no extra credit card fees or hidden fees) and 80% of donors cover your fees.
Trusted by Non-profits of Every Type and Size
See how foundations, human services, arts and culture, and trade associations are raising more with Big River.